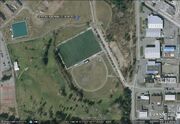 Nanaimo BC
5/16 Mile Paved Oval
Status: Closed. Some remains exist. Was active from 1958-1985
The track surface remained fully intact until at least 2003. Sometime in between 2003 and 2008 half of the track was completely dug up and a soccer field was built. The other half was dug up as well and re-sodded. Recently a second soccer field was built and the 2 together have overtaken the property, though the front stretch wall, and some old cement pilings from the grandstands buried in the weeds are still present. 
Ad blocker interference detected!
Wikia is a free-to-use site that makes money from advertising. We have a modified experience for viewers using ad blockers

Wikia is not accessible if you've made further modifications. Remove the custom ad blocker rule(s) and the page will load as expected.