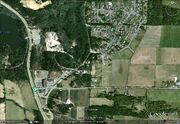 Cobble Hill, BC
1/4 Mile Paved Oval
Closed, No Remains Exist
Opened - 1951?
Closed - 1954
Shearing Raceway/Speedway was opened after the closing of Langford Speedway to accomodate the racing community of Victoria. It closed in 1954 after Western Speedway opened and car counts disapeared. The remains were intact until sometime in the mid-late 1970's when the property was excavated and housing was built on the site. The location on the photo is approximate, it was located on Cowichan Bay road just off the Trans-Canada Highway.
Ad blocker interference detected!
Wikia is a free-to-use site that makes money from advertising. We have a modified experience for viewers using ad blockers

Wikia is not accessible if you've made further modifications. Remove the custom ad blocker rule(s) and the page will load as expected.